Myopia and Children's Future Eyesight
Get educated about myopia and how it could be affecting your child's day- to-day life.
Schedule an appointment with us to learn more.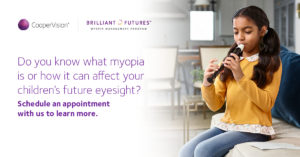 Understanding Your Child's Myopia
What is Myopia
We are delighted to share the following info-graphic regarding childhood myopia (nearsightedness) and shed light on the increasing rise in childhood myopia globally.
Bringing awareness to this epidemic is very important to us.  And, we want to make sure parents understand this condition, it's impact, causes, and treatment options.
If your child has been diagnosed with myopia, please give us a call to schedule a free myopia consultation to discuss the many treatment options available.  Treatment options are uniquely tailored to your child's needs and early intervention is the first step in slowing down it's progression.
The prevalence of myopia and high myopia are increasing globally at an alarming rate, with significant increases in the risks for vision impairment.
Advanced Eyecare of Hillsborough would love to help your child see the world better.  To schedule your free myopia consultation with Dr. Kaur, Dr. Moy or Dr. Farooqui call us at (908) 281-0800.  Our friendly staff will assist in scheduling your appointment today.