Reopening for Routine Care
Welcome back to all our patients!
On Monday, June 22nd, 2020 –  we will be reopening our offices for routine eyecare and rescheduled appointments.  If you have been patiently waiting for your eye exam, routine vision care or medical appointment we are here to help.  Please call us at (908) 281-0800, so we may help schedule your next appointment.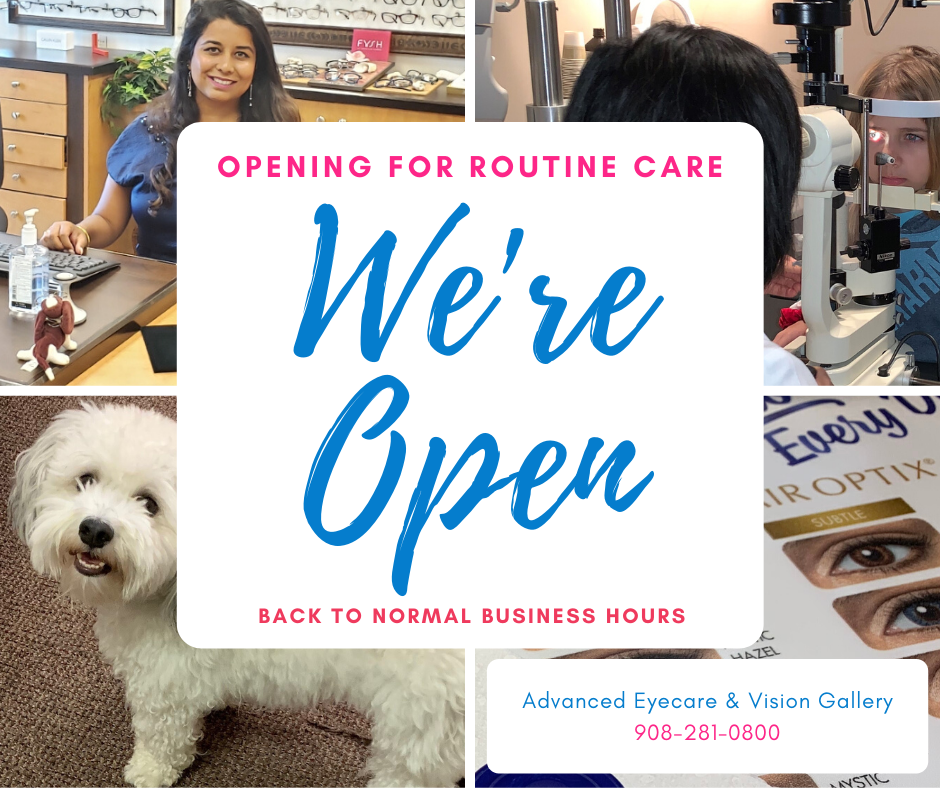 To ensure the safety of our patients, doctors and staff we have implemented the following enhanced protocols to reduce the spread of viruses and also help keep our community healthy:
All areas, common spaces,equipment and handled eyewear will be disinfected before and after each patient visit with hospital grade disinfectants.

We've implemented screening protocols for our staff and patients. Please be prepared to have a non-contact temperature reading at time of your appointment.

If you are checking in for your appointment, please call our office @ (908) 281-0800 to check in.  Our doors are locked to avoid unscheduled appointments.

All patients must wear a mask covering their mouth and nose.  If you do not have a mask, we have disposable masks available for purchase ($1/mask).

Only one patient will be admitted for their scheduled appointment unless they are a minor.  If a patient is a minor, one parent will be allowed in our office.

If you have been COVID-19 positive, exposed to someone in the past 4 weeks, have signs, or symptoms – you will be rescheduled.

All forms must be filled out electronically before your scheduled appointment.  This will help reduce the amount of time you will be in our office and waiting areas.  

Always call the office prior to coming to picking up any materials, or eyeglasses repairs or adjustments.  Again, our doors will be closed to the general public and you will not be allowed into our office without a scheduled appointment.
Please note, nothing is more important to us than your well being and we will continue to closely monitor the COVID-19 crisis to ensure we are taking the proper protocols to keep our community safe and healthy.  We thank you for your support and look forward to seeing you during your next visit.
If you have any questions, please feel free to contact us.
The doctors and staff of
Advanced Eyecare & Vision Gallery
908 281-0800