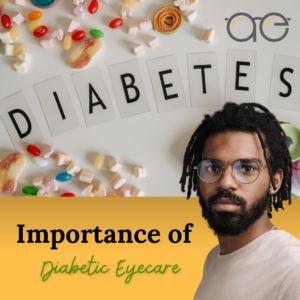 Importance of Diabetic Eyecare
Monitoring your eyes regularly is of utmost importance if you have diabetes. Diabetes can lead to various eye complications, such as diabetic retinopathy, glaucoma, and cataracts, which, if left undetected and untreated, can cause irreversible vision loss. By undergoing routine eye examinations, potential issues can be identified early on, allowing for timely intervention and management.
Regular monitoring helps to protect and preserve your vision, ensuring that any diabetic-related eye conditions are addressed promptly. Remember, proactive care and collaboration with eye care professionals are crucial in maintaining optimal eye health while managing diabetes effectively.
When it comes to caring for our patients with diabetes, we go above and beyond to deliver exceptional eye care services. Our comprehensive approach focuses on meeting the unique requirements of individuals with diabetes. Through a range of specialized services, including thorough eye exams, advanced diagnostic tools, and personalized treatment strategies, we aim to detect and manage diabetic eye conditions at the earliest stages.
For patients with more advanced cases, we work closely with other medical professionals who specialize in diabetic eye care. This collaborative approach ensures that our patients receive the highest level of multidisciplinary care, combining expertise in diabetes management and eye health. By coordinating with specialists, we can provide comprehensive treatment plans tailored to your unique needs.
At Advanced Eyecare of Hillsborough, we are committed to helping our diabetic patients maintain clear vision and optimal eye health throughout their journey.